More than eight thousand copies of the same book are being given to all final year primary school children in Manchester this summer to help them settle into their new high schools in September and keep them reading over summer.
The unique book give-away by Read Manchester has been running in the city for the last three years, and will see every child in Year 6 at the city's schools given a copy of 'The Lion Above the Door' by author Onjali Q Rauf.
Pupils will also get a special workbook full of fun, practical activities and challenges related to the book, as part of the shared learning project for pupils as they make their move from primary school.
This year marks the fourth year of the city-wide reading project which is a Manchester special, and it's hoped that giving every child the same book as they leave primary school will create some common ground between pupils as they move up to their new high schools in the autumn.
Rauf's book, published by Orion, tells the story of Leo and his best friend Sangeeta who often feel like the odd ones out at school and in the small village they live in, where everyone else is white. That is until they go on a trip to a war museum where Leo sees his own name on a war memorial, starting him off on an amazing investigation that highlights some of the hidden history of World War Two and his own family.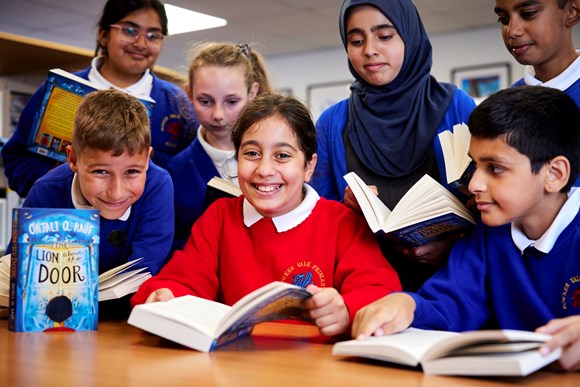 The Year 6 transition read for primary pupils is part of a broader five-year action plan called Making Manchester Fairer, which aims to address inequalities in the city that can start early on in life and even affect how long people live for, and their opportunities around work and housing. The plan also includes work around tackling cost of living pressures and poverty, which are also integral to improving health and wellbeing.
Councillor Garry Bridges, Executive Member for Early Years, Children, and Young People said:
"Getting a copy of the same book as all their friends when they leave their primary school has now become a rite of passage for pupils in Manchester schools.

"Transition between schools can be a difficult time and having this common ground helps children and schools to manage that journey from primary to secondary. It's also a key part of our Read Manchester vision which looks to inspire children through reading and a love of books."
Contact Information
Jane Lemon
07798 947519
jane.lemon@manchester.gov.uk
Notes to editors
About Read Manchester
Read Manchester is a partnership campaign from Manchester City Council and the National Literacy Trust to promote the benefits of reading for pleasure. Working with local community organisations, Libraries, cultural partners and schools, Read Manchester aims to engage the community with books and stories to inspire them to read on a daily basis. Read Manchester supports all ages to engage with reading, recognising that improved literacy has substantial benefits for all.
Visit Readmanchester to find out more. You can also find us on Facebook.